Join us in the quiet seaside enclave of Cerritos Beach, just south of Todos Santos, for a 5 night, 6 day Baja Adventure Retreat. We'll practice yoga up to two times daily in a gorgeous studio overlooking the Pacific Ocean, learn to surf at one of Southern Baja's most consistent surf points, hike over desert cliffs to a secret beach, and stargaze far from the city lights with a local astronomer.
Daily practices will include meditation, a morning Power Yoga class, and an evening Restorative or Yin Yoga class. This retreat includes one surf lesson, one additional board rental, a naturalist-guided hike and a day trip to Todos Santos. Your stay includes airport transfers* from San Jose del Cabo as well as daily breakfast and snacks, and dinner on four of our five nights together.
Your walls are canvas. Your bed is cozy. You have all the amenities of our indoor rooms, at our most affordable price. Tent accommodations have a shared bathroom with a gorgeous, private outdoor shower. Desert & ocean views.
+SOLD OUT+
Spend your evenings in a contemporary, cool concrete structure with a shared jack and jill bath. All rooms are double-occupancy and offer two twin beds. Desert or Ocean View - first to book is first to choose.
$1615
+ONE REMAINING+
The ultimate private space - a double room with your own ensuite bathroom. This room is double-occupancy and offers two twin beds or one queen. Floor to ceiling vertical window offers a beautiful ocean view.
+SOLD OUT+
With several past lives in the fitness industry as an athlete, coach, administrator and entrepreneur, it's no surprise that it's the physicality of the power practice that first attracted Sara-Mai to yoga. Years later, it's the spiritual limbs of yoga that keep her hooked, and she strives to offer the full spectrum of the practice to her students. Sara-Mai's classes are informed by her athleticism and her advanced studies in mindfulness and Tibetan Buddhism. Her teaching will encourage you to seek challenge where you need it that day, be it via movement or stillness. A 200-hour Yoga Alliance certified instructor, Sara-Mai has completed several hours of continuing education in meditation, Buddhist studies and Yogic philosophy.
Sara-Mai completed a Masters Degree in Sport Management at the University of San Francisco in 2004 and is a 1999 graduate of Tufts University. Off the mat, she can be found adventuring between her homes in the Texas Hill Country, and Southern Baja with her husband and two dogs, Sport and Bug.
Sara-Mai is a yoga & meditation instructor with Baja Surf Yoga and will be co-teaching both January 2019 retreats.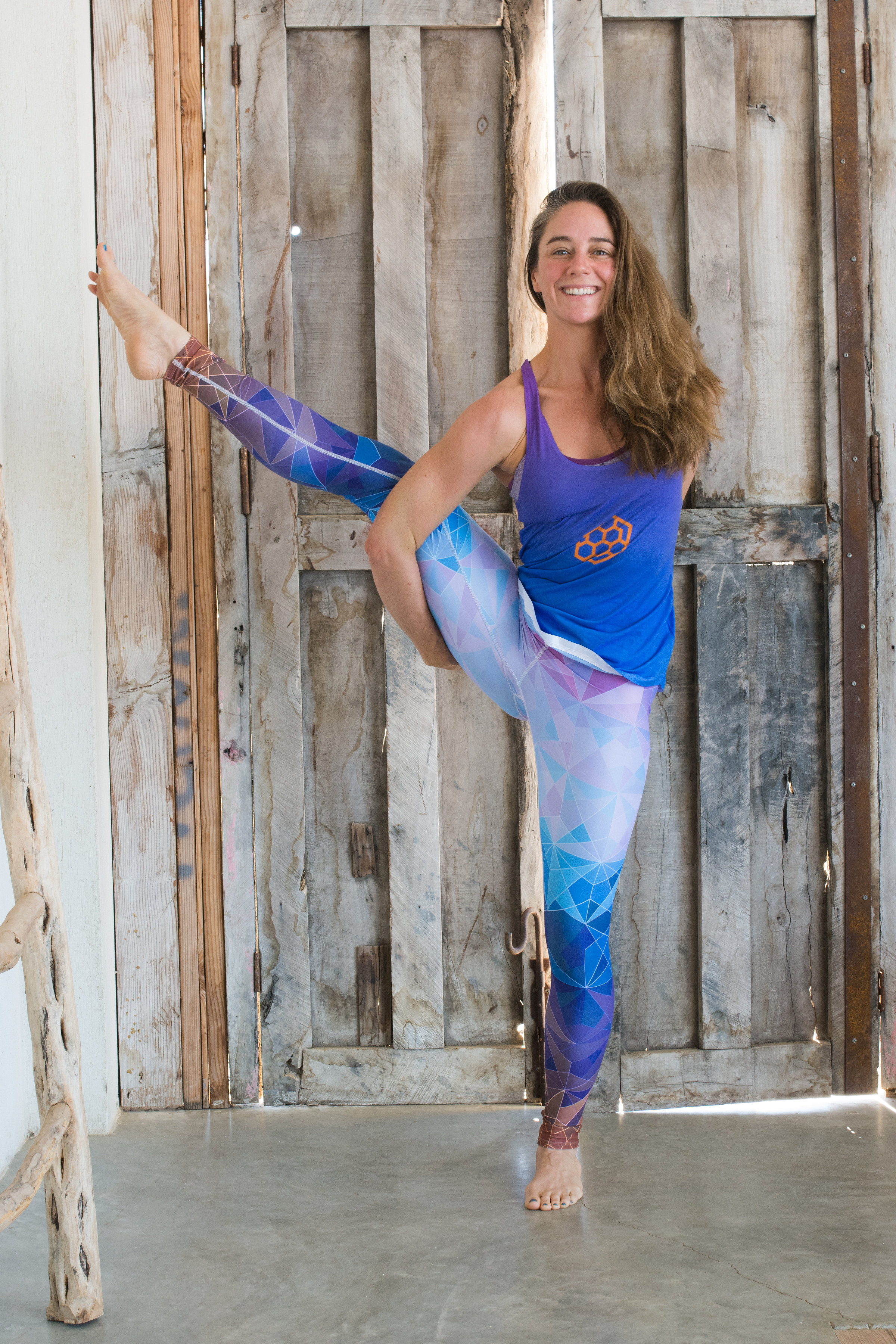 Casie has been practicing yoga and teaching in some capacity for nearly half her life. After graduating from college, Casie hit the ground running as a school teacher and coach, and found yoga at the same time. She had been searching for a healthy, sustainable, non-competitive form of exercise that would balance her years as a collegiate track and field athlete. When she left traditional classroom teaching to help her husband open two restaurants, Apis and Pizzeria Sorellina, Casie discovered she enjoyed being a businesswoman (but NOT the restaurant life!). Enter Nectar Flow Yoga.
Casie founded Nectar Flow Yoga in 2016 to serve the small community of Spicewood, Texas with an approachable and friendly space in which to practice mindfulness and healthy movement. Since that time, Nectar Flow has grown to a full-scale studio with a variety of dynamic and experienced teachers and classes. For Casie, this is truly a "dream job," combining her passion for teaching, love of yoga, zest for running a business, and desire to connect with her community.
Casie also earned her M.Ed in education in 2009, followed by her 200hr Yoga Teacher Certificate and is currently working toward her 500hr Yoga Alliance Advanced Certification.
Casie is the owner of Nectar Flow Yoga and will be co-teaching both our January 2019 retreats.
*Each guest is responsible for reading all the small print prior to booking!
Still have questions? Submit the form below for a quick response.